Winamp Plugin - Say Something between Tracks
10/Jan/2018 - 10:12, por VExtenso Admin
1st/Apr/2021 - Version 1.3 Released (unsigned)
Improvements on saying time in Portuguese, like "15 para as dez".
Fix: Weather information was changed to OpenWeather
Fix: Main texts and Alternative now are balanced
Fix: correct time in couple seconds to compensate play delay
Donations are now accepted, see why we need here
Listen to a sample

Screenshots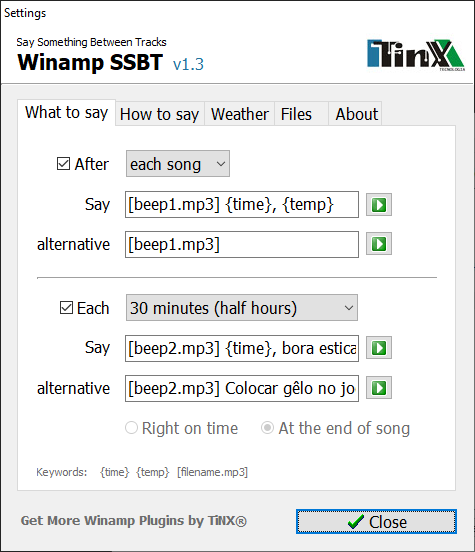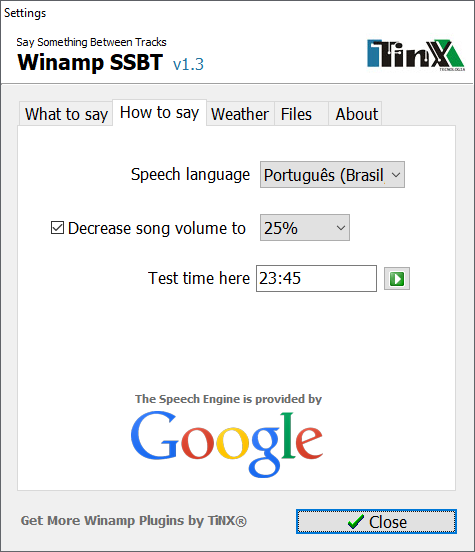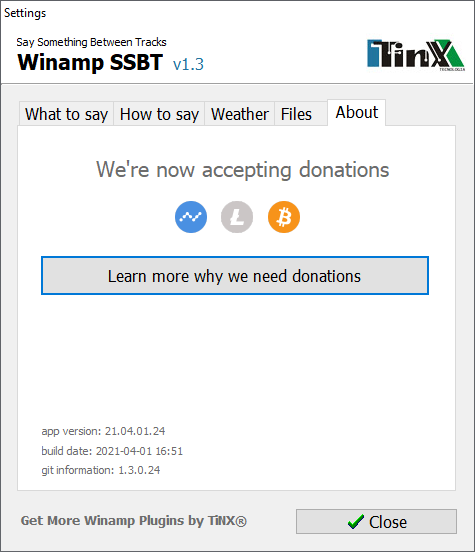 10/Jan/2018 - Version 0.6 Released
Bug fixes.
Google voice is working again,
You can add custom sounds, beeps, noises using [tags].

Ex.: [effect1.mp3] you've just heard a bell!

Buttons to locate or clear the cache folder.
03/Set/2015 - Version 0.4 Released
New tab with cache folder path and clear cache.
Fix: don't cache file if Google Voice don't return content.
Fix: added a new "client" parameter to avoid Google captcha (I also search for an official Google TTS API, but didn't find anything)
09/Jul/2015 - Version 0.3 Released

Portuguese Natural Speaking
English Natural Speaking
Spanish, Italian, Russian, Deutschland and Indian
Que tal escutar a hora e temperatura da sua cidade após suas músicas? Como nas rádios!! A *sua* rádio!! Com este plugin é possível ouvir mensagens após as faixas, incluindo informações como hora e temperatura. É muito engraçado: após algumas horas de uso você pensará que está escutando uma rádio qualquer, mas com todas as músicas seleciondas por você! Incrível!
Este plugin ainda está em fase BETA. Não deverá ser usado para fins sérios devido a possíveis problemas. A voz e a temperatura são obtidos de serviços de terceiros, como Google e OpenWeatherMap, e armazenado em cache para evitar sucessivas consultas.
Escolha entre os idiomas Português e Inglês. O idioma Português inclui falas naturais das horas, com os "trejeitos" de acordo com o horário. Em breve será implementado para Inglês também.
Exemplo em Português


What about listen the time and the temperature of your city right between the songs? This plugin allows you to set audible messages between Winamp Tracks, including informations like hour and temperature (only celsius by now). It's amazing how you feel after some ours, you may think you're listening a regular station, but with all your choosen songs!
We're are still working on it; it's in BETA version. It should not be used for oficial purposes due to possible flaws. The voice and temperature are provided by third parties, like Google and OpenWeatherMap, and cached to avoid too much access to those services.
Select between Portuguese, English, Spanish, Indian, Deutschland, Russian and Italian. The English and Portuguese version includes natural way of speeking hours. .
Version 0.3 Changelog
English Natural Speaking
Spanish, Italian, Russian, Deutschland and Indian
bug fixes
Version 0.2 Changelog
Internal change in the way the voices are played
bug fixes
Keywords: Say Something Between Tracks, Speek Between Tracks, Radio Messages, Say Time, Say Temperature.

Comentários:
Seja o primeiro a deixar um comentário!

Veja mais: