Desktop Comfort - Mojave Wallpaper Dinâmico para Windows
24/Jun/2020 - 00:17, por VExtenso Admin
Já está disponível em versão Beta o Desktop Comfort, aplicativo que ajusta automaticamente o brilho do monitor, troca o fundo de tela conforme o horário do dia, e também ajusta o Dark Mode do Windows 10 de forma automática. A exemplo do que a Apple disponibilizou no macOS, com um visual bonito e leve.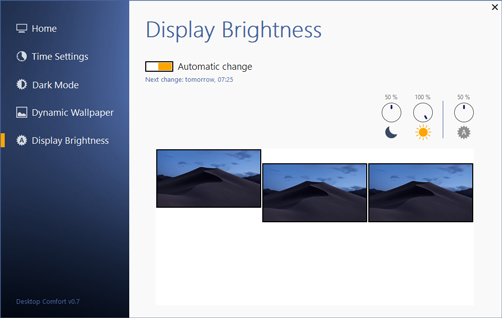 Neste link tem todas as principais features do aplicativo, em Inglês:
https://desktopcomfort.com/features/
Automatic Dark Mode - When Apple unveil their macOS Mojave, one of the new cool features was the Dark Mode. Microsoft also developed their on Dark Mode that, by now, is available to all up-to-date Windows 10 versions. In the beggining, Windows Dark Mode was only after some tricky registry settings. Now it is available on Control Panel, but until today, it need to be activated or deactivated manually.
Dynamic Wallpaper - Windows 10 allows you to schedule wallpaper changes in time intervals: it random changes in hours and minutes. If you want to get an even more precise change, this feature is for you!
Just like Apple's Mojave wallpapers, now you can set the time to slowly change wallpaper to match specific daylight. Even better: Desktop Comfort can match the sunrise and sunset of your location. More about that in next topic.
Time Settings, Sunrise and Sunset - With Desktop Comfort Time Settings you can quickly choose between a fixed day and night time, or let the app get the best settings based on your location.
This way you can always match the sunrise and sunset of your city and trigger the events like adjust Dark Mode or Display Brightness, which we'll cover in the next topic.
Display Brightness - Sometimes we see ourselves so involved in an activity, we don't notice the light changing. If your main computer is a desktop, chances are you need to adjust each display brightness manually.
That's why Desktop Comfort brings automatic Display Brightness change for your desktop computer.

Comentários:
Seja o primeiro a deixar um comentário!

Veja mais: